Logo Design
Packages
Logo Re Build
Vectorisation of existing logo
Option to change colours if required
2 Design Revisions
Supply Full File Package (PDF, JPEG, PNG, EPS)
$135 + GST
Startup Logo Design Package
Consultation via phone or half hr meeting
Questionnaire emailed to you
2 initial design concepts presented
Professionally designed logo finalised for use
Full File Package (PDF, JPEG, PNG, EPS)
$250 + GST
Premium Logo Design Package
Consultation via phone or 1 hour meeting
Questionnaire emailed to you
4 initial design concepts presented
Up to 5 revisions (if required)
Professionally designed logo finalised for use
Full File Package (PDF, JPEG, PNG, EPS)
A4 Logo Kit Reference Guide
BONUS: 1 facebook banner, 2 facebook thumnails, 1 instagram logo tile
$400 + GST
Ultimate Logo Design Package
Consultation via phone or 1 hour meeting
Questionnaire emailed to you
6 initial design concepts presented
Up to 8 revisions (if required)
Professionally designed logo finalised for use
Full File Package (PDF, JPEG, PNG, EPS)
A4 Logo Kit Reference Guide
BONUS: 2 facebook banners, 2 facebook thumnails, 4 instagram tiles (1 logo tile, 3 background branding tiles)
$800+ GST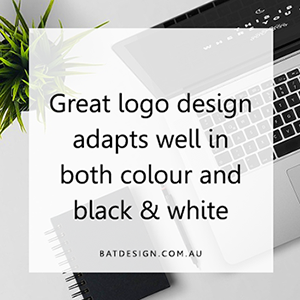 Your business logo and branding is the face of your business. A quality logo will help your company stand out from your competitors and attract the right clientelle for your business. We have designed well over a thousand logos since 2001,
with many logo designs still being used and revelant in today's trends.
A collection of our logos have been awarded internationally, winning branding recognition.
When we work with our clients we strive to create a logo design that:
1. Reflects the core essence of their business,
2. Uses key colours that compliment and attract their ideal clientele,
3. Use clear, modern designs that will stand the test of time
4. A design that can easily be presented on a variety of merchandise & printed materials
5. Is unique so as to stand out from their competitors
The logo design process:
1. Initial communication over the phone or in person, where we get to know who you are and what your business is about, and explain what we will provide for you.
2. A logo questionnaire will be emailed to you asking questions and requesting imagery you like, and colours you may like so we get a full understanding of what you are seeking.
3. Several concepts will be developed by one of our inhouse designers. These concepts will explore different font options, colour palettes and logo placements. All artwork is created in our studio, not out-sourced.
4. After logo concepts have been presented to you, further development will be applied to the chosen logo after we receive your feedback (should you request changes). We want to make sure the logo we create for you is your dream logo!
5. Final logo is approved by you, we then hand over your fresh new logo in various formats : eps, jpeg, png and PDF and a small 1 page logo guide kit showing colour breakdowns, fonts used and primary and secondary logo options.