SUPPORTING PARTNERSHIPS
Grainger Wind Symphony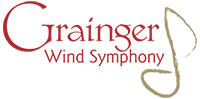 We are ongoing supporting partners for Grainger Wind Symphony having supplied artwork for their events and social media campaigns for over 7 years.
The Grainger Wind Symphony is a Melbourne-based not-for-profit group made up of musicians who share a passion for creating quality wind-band music.Established in 1986 and named after one of Australia's foremost musicians and composers, Percy Grainger, the group seeks to perform wind symphony music of the highest calibre. Presenting approximately eight concerts a year throughout Melbourne and regional Victoria, the Grainger Wind Symphony strives to bring its audiences a greater appreciation and enjoyment of the works of Australian composers and wind symphony music generally. The Grainger Wind Symphony also has a strong commitment to music education and the development of young musicians.
The group is based at Blackburn High in the City of Whitehorse and performs in a variety of venues, mainly in the Melbourne CBD or in suitable venues where invited. Rehearsals are on a Wednesday night with usually 5 rehearsals for each concert.
To find out more about Grainger Wind Symphony please go to: www.graingerwindsymphony.asn.au/wordpress/
Paws for Though Rescue

We have provided sponsorship in the way of designing the last two years fundraising calendars and artwork for fundraising initiatives. 
"Paws for Thought" Rescue is a teeny tiny rescue group in Sydney, run by just a husband & wife team working to help abandoned dogs from death row. PFT's mission is to successfully rescue, rehabilitate & ethically rehome these dogs, giving them a chance at a "happily ever after". PFT provides high-quality vet care, professional grooming, healthy food, stability, training, exercise, socialisation & lots of love.
Mr & Mrs PFT work on a volunteer basis only and all the vet work for each dog is paid for & only made possible with the support of the general public. PFT relies solely on donations to assist with the on-going care for each deserving dog. Whilst some rescue groups are at the beginning of a dog's life…."Paws for Thought" Rescue are there during their twilight years when they fall.
To find out more about Paws for Thought Rescue and how you can donate please go to: www.pawsforthoughtrescue.com.au/